Ergogenics Raw Vegan Holiday Cheesecake
2017 Dec 18th - by Heather Pace
What's your favourite holiday treat?! Mine is usually the one I'm eating in the moment hehe.
I'm a huge fan of Ergogenics, a company that makes amazing organic hemp protein powder and greens powder. I reviewed their protein powder a while back and made some great protein bars with it which you can see HERE.
Let's face it, we could all be adding more greens into our diet and what better way than to sneak them into healthy desserts?! I actually put this cheesecake to the test today by serving it to my best friend - actually, I served a platter of 4 different desserts that I had made and she liked this cheesecake the best! The proof is in the pudding cake. ;)
The Whole Greens powder is organic and is a raw vegan product that has been freeze dried to prevent nutrient loss. It has an extremely high concentration of easily digestible nutrients, fat burning compounds, vitamins, and minerals to protect and heal the body. I think it's a great addition to one's diet, but more so if you have a hard time eating enough greens. I find this powder to have a definite "green", yet pleasant taste (though I much prefer to add it to desserts or smoothies than to drink it straight up with water).
Let me tell you what is in the Whole Greens:
Spirulina - one of the most nutritionally rich plants known to man.
Moringa - a significant source of B vitamins, vitamin C, provitamin A, vitamin K, maganese, and protein among other essential nutrients.
Chlorella - a type of single cell green algae, packed with nutrients.
Kale, cabbage, broccoli - leafy green veggies considered to be some of the most highly nutritious vegetables.
Barley grass - a green cereal grass that is an excellent nutritional source of nutrients.
Wheat grass - it contains chlorophyll, amino acids, minerals, vitamins, and enzymes.
Spinach - loaded with essential minerals and nutrients.
Wakame - a sea vegetable that is rich in minerals.
Matcha green tea - extremely high in antioxidants, polyphenols, tannins, flavonoids, and L- theanine which helps with both relaxation and mental alertness and energy.
I really hope you'll try this recipe! It made 6 individual cheesecakes that I made in silicone muffin cups (with straight sides). You can also do this in a 6" or 7" spring form pan. I decided to go two toned with these cakes which I thought would be fun for the holidays. The drizzle is optional but easy to make and dresses them up.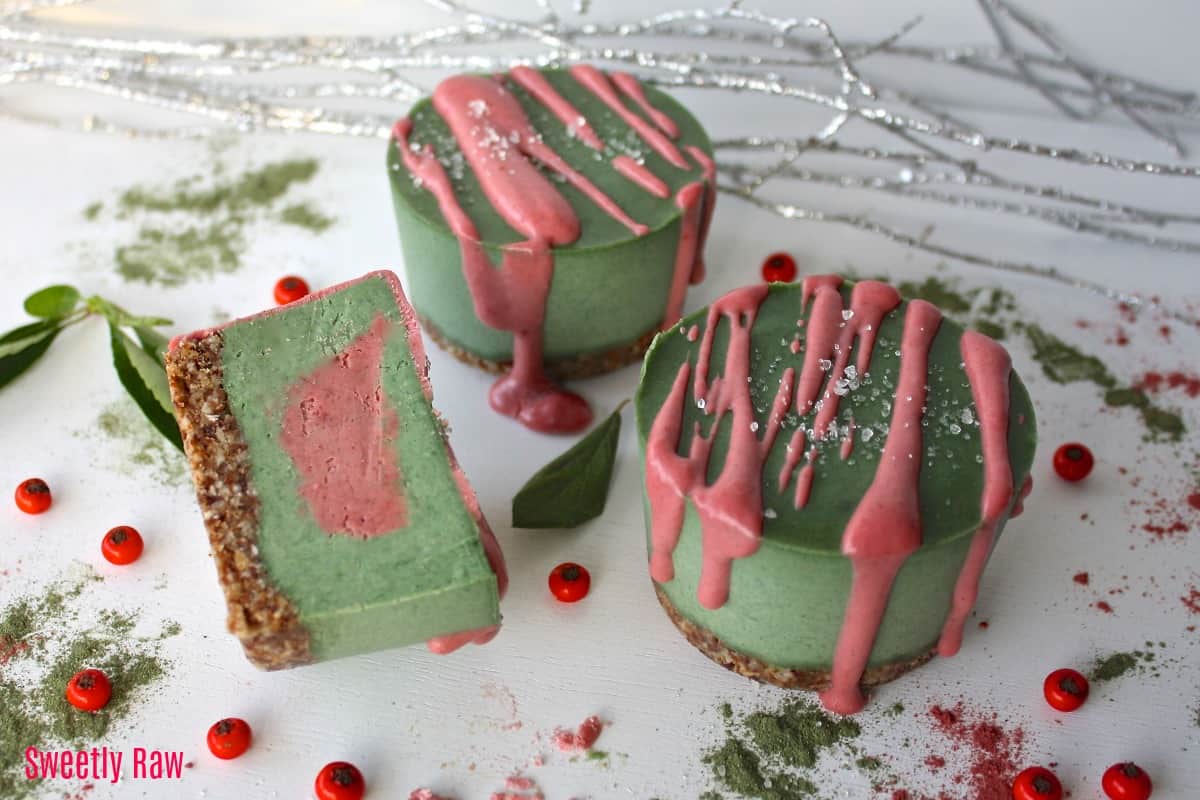 Green Christmas Cheesecakes
Crust
2/3 cup sunflower seeds or almonds
2/3 cup shredded coconut
1 cup raisins
1 teaspoon water
Grind the seeds and coconut in a food processor. Add the raisins and process until they're combined. Add the water and pulse a few times. The mixture should easily stay together when pressed in your hand. Press into the bottom of pan(s) of choice.
Filling
2 cups cashew pieces
1 cup water
5 tablespoons coconut nectar
1 teaspoon pure vanilla extract
1/2 cup melted coconut oil
4 tablespoons melted coconut butter
1 1/2 - 2 tablespoons Ergogenics Whole Greens powder
Beet root powder, for desired colour
Blend the cashews, water, nectar, and vanilla until smooth in a high speed blender. Add the oil and butter. Blend again to incorporate. Pour 1/3 of the filling into a bowl and stir in some beet powder. Add the green powder to the remaining 2/3 of the filling in the blender and blend. Pour the green filling over the crusts, leaving some space at the top. Add a big spoonful of beet filling on top and use the spoon to push it down into the green filling. Spoon a little green filling over the top. Chill in the freezer for at least 6 hours, remove the silicone molds or spring form pan and place in the fridge for at least 6 hours.
Drizzle
2 tablespoons hot water, or more
2 tablespoons melted coconut butter
1 1/2 tablespoons melted coconut oil
Beet root powder, as desired
Whisk all ingredients together until smooth. If it's too thick to drizzle, add a touch more water. Just a little to start so that it doesn't get runny. It will firm up quickly on the cold cakes.
Recipe by: Sweetly Raw