Lavender Blueberry Oat Smoothie
2017 Oct 7th - by The Writer Eats
This blueberry dreamy smoothie is one amazing smoothie, especially after workouts. Filling, nutritious and gain boosting; even if you decide to make this in the morning, you don't have to worry about adding much more because the protein powder is incredibly nutrient dense.
There's no actual lavender flavor in here (which, I'd like to try of course) but this protein smoothie tastes absolutely delicious. Even more so because it looks gorgeous and is packed with nutrition.
I used blueberries, but the trick is getting the right balance between the milk and blueberry (and protein powder) ratio. You want that light, lavender-y color to make you swoon.
Have a lavender dreamy time!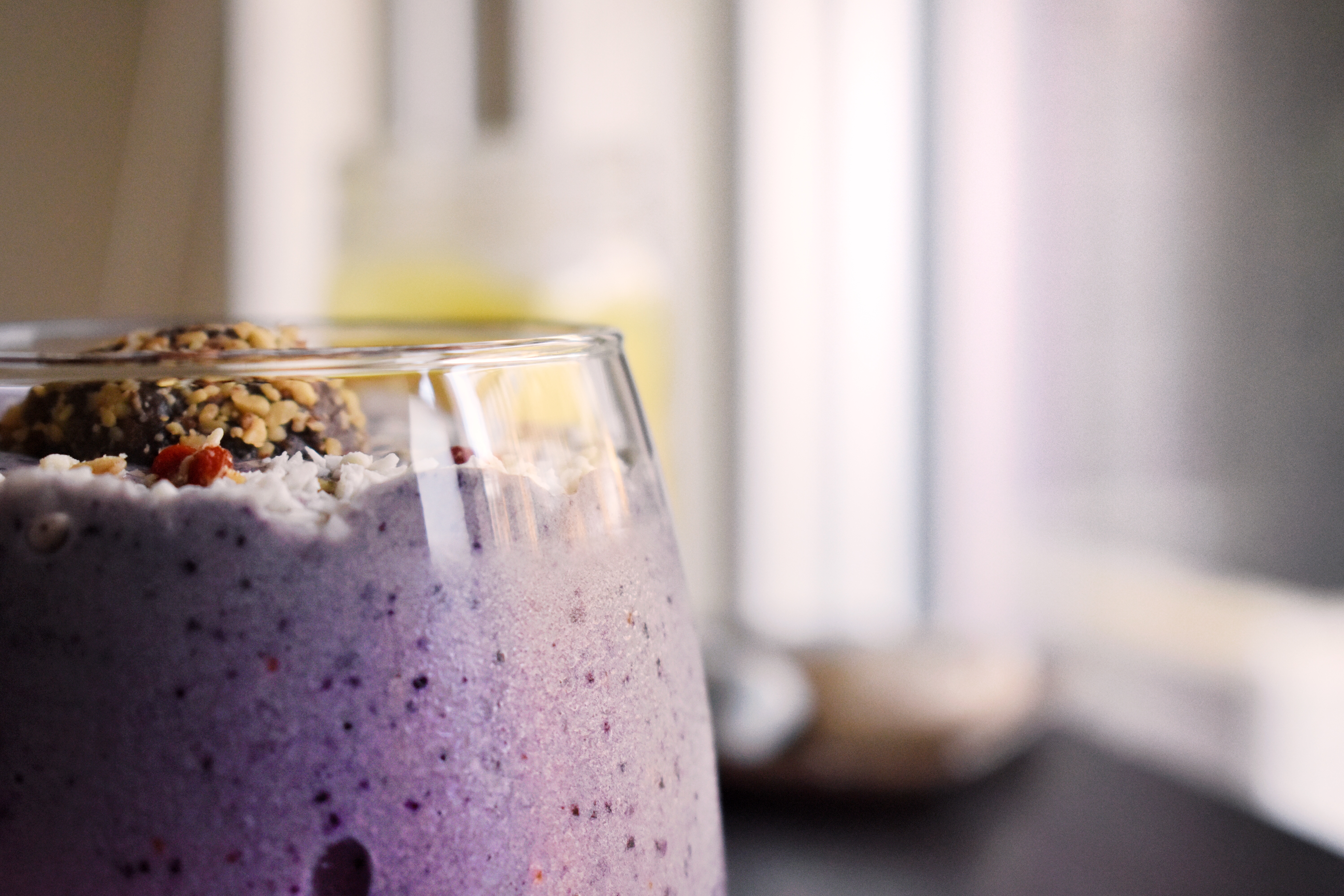 Ingredients
1 1/2handfuls, around 1/2 cup blueberries (frozen or fresh, i used frozen)
1 cup almond, soy or other plant based milk (can adjust to get more of a lavender color if needed)
1/3 cup rolled oats, or slightly less (soaked in water for at least 15 - 20 mins)
1 1/2 – 2 Bananas (frozen)
1 scoop Ergogenics protein powder (vanilla)
Ice cubes (optional)
1/8 - ¼ tsp sweetener (optional, or if not using protein powder)
shredded coconut flakes to top
Preparation
1 Blend all ingredients, except coconut flakes, sweetener of choice and energy ball.
2 Taste and adjust if required, and then add sweetener only if necessary.
Additional Notes
For the purpose of getting the lavender colour, I skipped out and adjusted some ingredients. Usually in smoothies, add 1 tbsp coconut oil, 1/2 cup oats, 1/8th tsp baobab powder. I use less banana too, unless I want to make a nice cream!