Totally Baked: Hemp Protein Granola Bars
2017 Aug 31st - by Sarah Britton BFA, CNP
First off, no. You won't get high.
I promise that no matter how many Hemp Protein Granola Bars you scarf down, the only thing you'll be feeling is really, really full (and happy, of course).
Unbeknownst to many people, hemp is one of the oldest and most versatile crops in the world, and has been cultivated for centuries. The question on everyone's mind is undoubtedly, what is the difference between edible hemp and smoke-able hemp?
Industrial hemp, the kind grown for seeds, oils, fibers, etc, is known as Cannabis Sativa L. Cannabis cultivated for medicinal or recreational use, on the other hand, is known as Cannabis Indica (more commonly referred to as "marijuana"). This variety is bred specifically for its flowers, and THC (Tetrahydrocannabinol – the psychoactive substance that produces the "high").
Hemp grown industrially is heavily regulated (by Health Canada) and is required to have less than a 0.03% THC content. This is different from marijuana, which often has 7 to 20% (or more) THC present. Comparing hemp to marijuana is really like comparing a Brussels sprout to a rutabaga – they may belong to the same family, but they're completely different!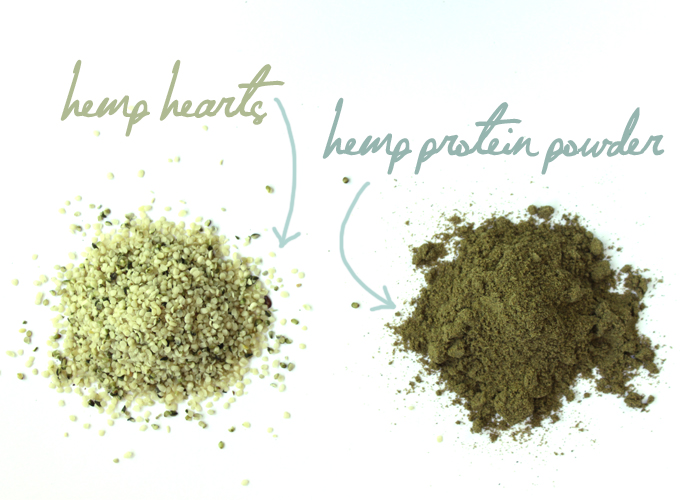 High on Health
Hemp is available in many edible forms these days, all derived from the hulled seeds, and often referred to as "hemp hearts". You can of course eat them in this state, which I like the best, but dried and pulverized seeds are sold as protein powder. You can even find hemp seed butter (so delicious), and hemp oil. No matter how you gobble it up, hemp is a vegan, gluten-free, sugar-free, trans fat-free, cholesterol free, and THC-free (I promise!) whole food that delivers an incredible amount of nutrition! Hemp is usually very safe even for those unable to tolerate nuts, gluten, lactose, and sugar.
Protein – Hemp protein is totally remarkable, as it is complete (meaning it contains all 20 amino acids, including the 9 essential ones), something not so easy to find in plant-based protein, making it an ideal choice for vegetarians and vegans. The protein in hemp is also highly digestible and easily absorbed by the body. Especially perfect for post-workout recovery, hemp is a good source of branch-chained amino acids, needed for repair and growth of lean body tissue.
Essential Fatty Acids – Hemp provides the essential fatty acids (EFAs) omega-3 and omega-6 in an ideal 3:1 ratio. Hemp is also one of the few sources of the hard-to-get gamma linolenic acid (GLA), another important source of omega-6 EFAs. All these essential fats are found abundantly in hemp and are great sources of energy. Essential fats found in hemp may reduce food cravings and inflammation and improve circulation.
Fiber – Hemp is a good source of healthy carbohydrates and dietary fiber, both soluble and insoluble. In one serving of hemp protein powder (2 tablespoons or 30 grams) you'll be receiving 8 g of fiber! That's almost one-third of the total daily requirement of 30 g (but feel free to get more, of course!). The fiber in hemp stabilizes blood sugar, and ensures regularity, won't cause bloating, gas or bad breath (unlike other types of protein supplements).
Vitamins and Minerals – Hemp is delivers a solid dose of vitamins A, B1, B3, B5, D, and E. Hemp is also a good source of iron, containing 2 to 3 mg. Hemp protein provides 48 percent of the recommended daily value of magnesium at 100 to 200 mg per serving. It even boasts trace minerals, and chlorophyll (which you will all remember from Green Dream Chlorella Cream, right?)
Earth Lover
In addition to being unbelievably healthy, hemp is also a healthy choice for the planet. Hemp is a sustainable crop, takes a low toll on the soil, can be grown in a variety of environments the world over, and can be replanted time and time again. Hemp fibers are among the strongest and most durable of any plant, making them perfect for clothing and paper products (did you know the US Constitution was written on hemp paper? Totally true.) Look for clothes made from hemp fiber instead of cotton, which requires substantially less (if any) pesticides during cultivation.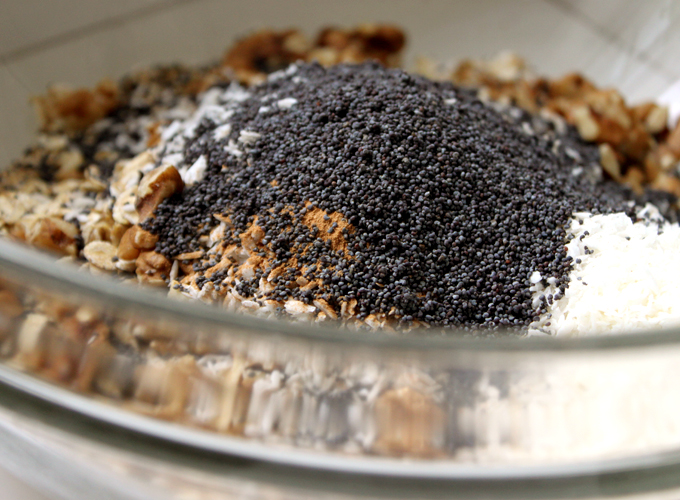 Who's got the munchies?
Hemp has a gourmet nutty flavour that blends easily into smoothies and baked goods. I love putting the hulled seeds into my morning power shake for extra Omega fats and protein. It lends an amazing creaminess and richness and gives me energy for hours and hours. Baking with the protein powder is also a breeze, as you can pretty much substitute it for flour in small amounts (try ¼ cup at a time). This will increase the protein, fiber, and healthy fats in all of your cakes, cookies and bars and no one will even notice! In fact, this recipe started off as just a granola bar, but because I had some hemp protein powder in my pantry…voila! An even better version of this already awesome treat was born.
In lieu of my travels back to Canada for summer holidays (I am actually on the plane as I write this), I actually whipped up these protein bars to get me through the long trip across the Atlantic. Airport and plane food be damned, this tasty little snack is most certainly keeping my fork out of the freaky mini-meal in front of me (how DO they manage to make fruit salad taste like a science experiment every single time?). In fact, I will be so bold as to say that these are the must-have snack for summer – delicious, filling, packed with whole foods. Best of all, Hemp Protein Granola Bars are perfect for road trips, picnics in the park, days at the beach, forest hikes, or lazing in hammock with a frosty glass of lemonade. They even freeze beautifully, so make a double batch, cut them up and pop in the freezer for smart snacking all summer long – just take them out half and hour before munching! So easy.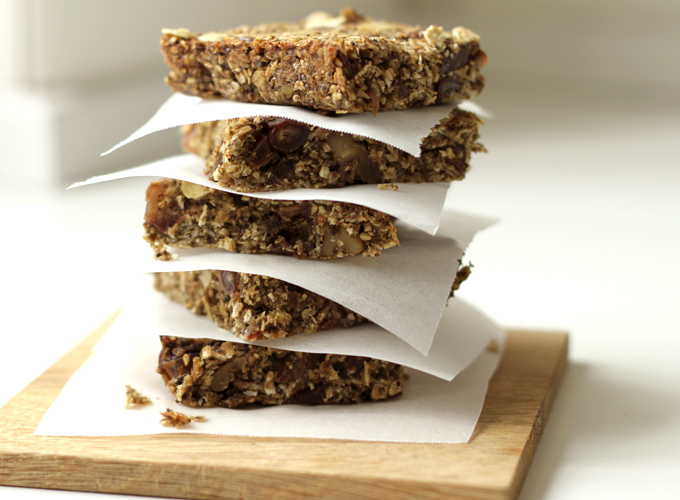 Hemp Protein Granola Bars
Ingredients:
1 1/2 cups rolled oats
3/4 cup walnuts, chopped (or any other nut)
1 cup dates, chopped (or any other dried fruit)
1 cup coconut flakes
1/2 cup Ergogenics Plant Protein powder
1/4 cup sesame seeds
2 Tbsp. poppy seeds
2 tsp. cinnamon
1/2 tsp. salt
3 ripe bananas
1/4 cup sunflower oil (or coconut, olive, walnut…)
2 tsp. vanilla extract
3 Tbsp. maple syrup
2 Tbsp. chia seeds
6 Tbsp. water
1. Preheat oven to 350F.
2. In a small bowl, mix the chia seeds and water together. Set aside.
3. In a large bowl combine the dry ingredients.
4. In a food processor or blender, mix bananas, oil, vanilla, and maple syrup (you can also just mash everything together with a fork). Add chia gel and pulse to mix. Pour wet ingredients over dry ingredients and stir until well combined.
5. Spread the batter evenly into a baking pan (mine was 9″ x 11″), and smooth out the top with the back of a spatula. Bake for 20-25 minutes, or until edges are golden brown. Let cool completely, store in airtight container and keep in the refrigerator for longer shelf life. You can also freeze these – take one out half an hour before you want a perfect snack!
I am a huge hemp lover and I am not afraid to admit it! Once you try these granola bars, I know you'll be just as hooked as I am…c'mon…everybody's doing it.